ETC Source Four LED Series 3 Lustr
Manufactured by ETC
Setting standards that are far from standard Over a decade of research comes together for the…
All of our rental products are well-maintained and properly tested
This equipment has been inspected by a Main Light certified technician at one of our locations.
In stock and ready to ship.
Shipping from: United States
Pickup from: multiple locations
---
Setting standards that are far from standard
Over a decade of research comes together for the market that has inspired ETC for over 45 years. The Source Four LED Series 3 brings the brightest light to the stage with the Lustr X8 array for the most nuanced colors and the Daylight HDR array for tunable white light.
We've added wireless DMX/RDM by integrating City Theatrical's Multiverse® protocol, and easy NFC configuration using your mobile device and ETC's Set Light app.
Get the brightness you need from every distance, the color you've been craving, and the control you deserve for the most efficient workflow. .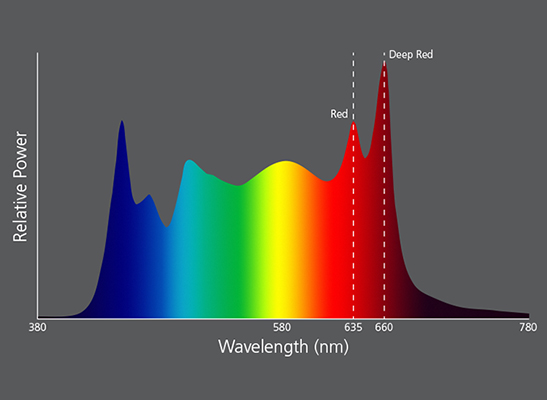 The color of emotion
When ETC added lime to the x7 array in 2014, it was a revolutionary step forward for color mixing. Lime green increased the lumen output in open white and lighter tints making them brighter and livelier than other LED mixes. It was a step closer to matching the tungsten output of a conventional Source Four fixture. It also enriched color-rendering by better marrying the red and blue ends of the color spectrum.
Well, we've done it again. This time we're adding Deep Red to the mix. With the eight-color Lustr X8 array, Series 3 renders skin tones and sunsets with new depth. With the tunable white Daylight HDR array, you get a wider range of warm and cool whites. All, without sacrificing brightness.
Hang this fixture in a box boom, overhead, or from the farthest back-of-house position and be amazed at how bright your stage is. Source Four LED Series 3 truly brings brightness from every position.
ETC's R&D department developed a way to give you fixtures that output a surprising number of lumens while maintaining the nuanced color control you need to enhance every set, every stage, every venue. We've reached further into the corners of the CIE color space to grab a red that is essential to accurately capture the life within every shade of skin, the warm glow of firelight, and the romance of sunset.
Two arrays to cover every stage
One array for emotional colors and soft pastels and a second for the widest range of whites. Lustr X8 brings a new depth to your colors and, in turn, emotion to your stage. Designers know that the best white light is made of the richest colors which is why our tunable Daylight HDR redefines how you use white light.
Lustr X8
The full color Lustr X8 array includes
a patent-pending mix of green, lime,
blue, indigo, cyan, amber, red,
and deep red LEDs.
Daylight HDR
The tunable white-light Daylight HDR
array includes red, mint, blue, indigo,
cyan, and deep red LEDs.


Lens Tubes
Introducing XDLT lens tubes that provide the highest output, clarity, and contrast of any lens tube on the market. Use your existing lens tubes, or upgrade to XDLT.
Ready for the professional stage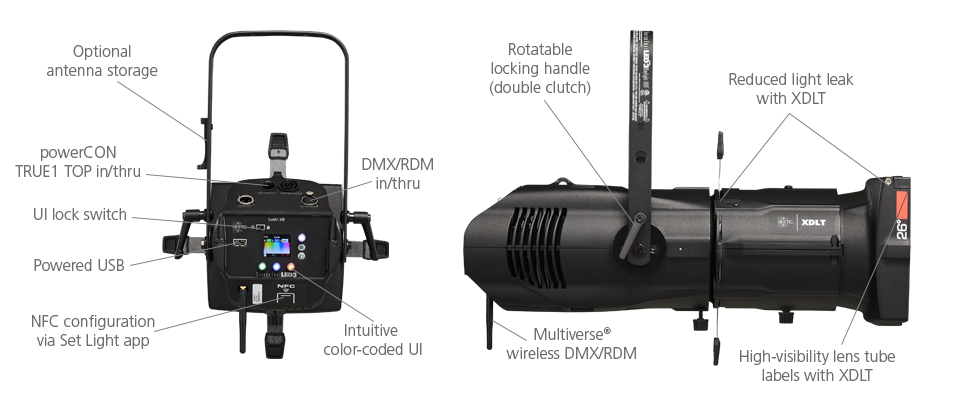 Wireless technology
CONTACTLESS COMMUNICATION FROM YOUR MOBILE DEVICE.
The built-in near field communication (NFC) hardware gives you the ability to configure your fixture with your mobile phone or tablet running the Set Light app. Amazingly, this works even if the fixture isn't powered, allowing you to config while you rig. Ready, set, light!
Next generation DMX
ETC has partnered with City Theatrical to bring you a patent-pending wireless DMX/RDM technology that enables scalability of wireless lighting data like never before. Multiverse® will change your entire approach to lighting by allowing large wireless DMX/RDM systems to be expanded even further. Used in conjunction with your console, City Theatrical's Multiverse can broadcast as many as 10 universes of DMX from a single transmitter without excessive radio energy. This frees up precious wireless bandwidth in your space. Multiverse plays well with others but is robust enough that other signals won't interfere.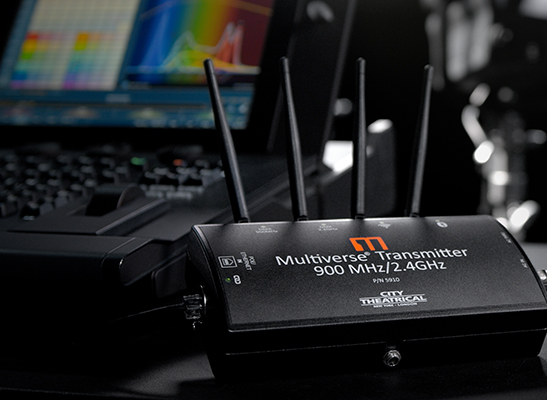 Intuitive UI
The user interface was designed to make your workflow as efficient as possible. It is intuitive without compromising on feature set.
Quickly and accurately adjust settings.
The physical UI lock prevents unintentional bumping from changing settings
Powered USB port for software updates and configuration backup
Settings menu accessed through the menu button
Toggle through operational modes using the function button
The four backlit encoders change colors to correspond to the attributes they control on the screen